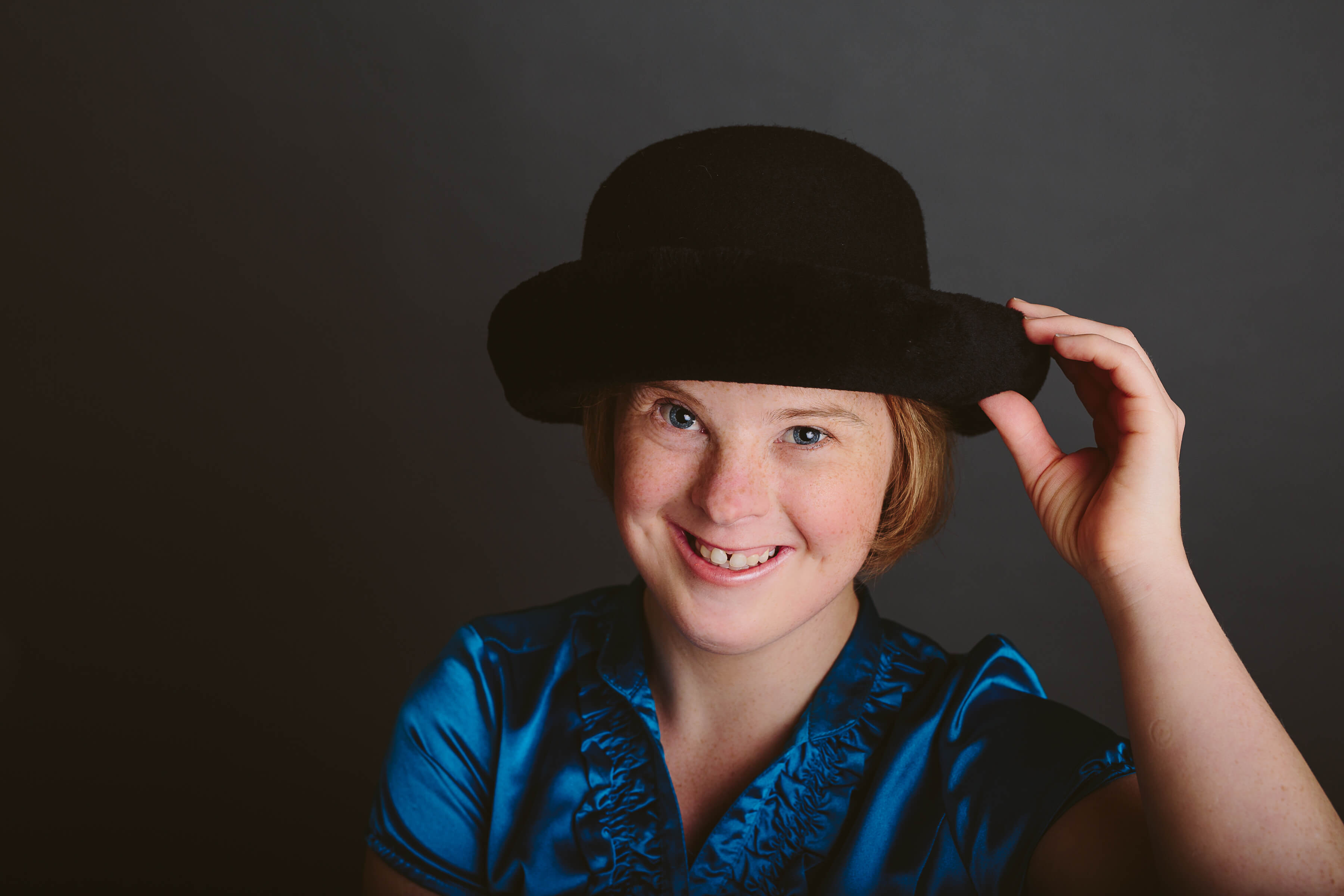 Editor's Note:  Emily and I sat together in a local café as she wrote her story.  We brainstormed ideas together, then as it came time to write the first words, I waited.  Emily looked to me, to see how I wanted to start her story, but I told her I wanted the words to be her own.  Once she got started, "I am a person…" she didn't stop.  Ideas flowed, and I was merely the conduit, typing the words and making them appear on the screen.  Emily is solely responsible for so clearly and eloquently bringing her life into focus.
Hi, my name is Emily and I am a person. I am a person born with Down syndrome. I was eight pounds, eight ounces when I was born at Guelph Hospital. When I came out, my mom didn't know I had Down syndrome. She knew when she took me home and somebody told her afterwards. I couldn't crawl, I needed help. My sister Beckie held the towel under my tummy and my mom moved my knees, pushing me along kind of, moving my arms and legs, "Right! Left! Right! Left!" I had a big belly and a big family. Counting me, there were five kids: my oldest sister Rebecca – who we call Beckie – my brother Matt, my sister Amy, me, and my youngest brother Mark. Mark is the tallest and I'm the smallest in the family. He's 6'4" and I'm 5'4".
My dad was thirty-five and my mom was thirty-four when she had me. My parents were one of the founding families of the Halton Down Syndrome Association (HDSA). When I was a baby, my mom got together with my friend Allan's mom. Allan and I played together as babies while our moms talked and had tea. We are still friends today through HDSA's Graduate Group. The Graduate Group is people with Down syndrome who've graduated from high school. I am now thirty-six years old.
I have made friends all over the world through Special Olympics. When I was sixteen, my mom found out about rhythmic gymnastics. I loved dancing in my room and with my friends, so rhythmic gymnastics seemed like the perfect fit. My mom became my coach, and my dad also took me to swimming through Special Olympics. I was fifteen when I swam for the Oakville Marlins, which is run by Linda Hickson, my friend Bill Hickson's mom. He's another one of my good friends. I dated Bill when I was fifteen, but not anymore. I have friends I made over the past twenty years through participating in swimming, rhythmic gymnastics, cheerleading, figure skating – and they are still my best friends. Special Olympics gave me the gift of life-long friendships.
Through my participation in sports and Special Olympics, I've been to so many places like Athens, Greece; Shanghai, China; Los Angeles, United States; London, England; and several locations across Canada, like Ottawa, Ontario; Vancouver, British Columbia and Antigonish, Nova Scotia. I'm a world traveler. My dad always says I'm his ticket to traveling. I have over one hundred and seventy-seven medals that I've won over the last twenty years, many of them while representing Canada at the International level. For my athletic accomplishments, in June 2019 I was inducted into the Halton Hills Sports Hall of Fame after being nominated by my friends Christine Arbic and Emily Arbic-Cohen. Thank you to them, this was a great honour.
Now I'm going to talk a bit about my home life and things that I do at home. There's a lot! I do inside stuff and outdoor stuff. Inside, I like my room. I like to watch TV and DVDs. I like dancing, music, reading and writing stories. I like going on my iPad and Facetiming my sister, Amy. This is my chance to see my nephew, Reece, and my niece, Grace, because they live in Northern Ireland. I've also been there to visit them multiple times. I always have supper with mom and dad in the living room and we watch Heartland – a TV show about horses. I love horses! I ride horses at Foxfield Stables and I also volunteer there cleaning out the horses' bowls and sweeping hay out of the hallway. I would love to go horseback riding on the beach! My friend Adelle and I are making plans.
My outdoor life. My family lives in the woods like the Cullen family from Twilight. In the summertime, we have a trampoline and a pool outside. I swim in the pool with my mermaid tail that my sister Amy and her family got for me. My mom, my dad and I like to go for walks, along with my other nieces and nephews when my parents are babysitting them. We have a trail in the woods we go on. We go bike riding and on nature walks. We have a volleyball net and have campfires on special summer nights. In the wintertime, we go cross-country skiing, and skating out on our pond. Sometimes we go downhill skiing, but we have to drive to those places. We have a snowmobile at my house, and I go on that with my dad. I would love to drive that on my own, but I have to get my licence first. I think I hit a tree once. I'm planning to get my licence, but I haven't yet. I'd like to get my boating licence too because we have a Sea-Doo at my cottage. When I drive those two things, I need a parent with me in case anything happens to me. My pool that I have at home, I can't go in it if my parents aren't home. I can't go in it late at night, like midnight – because I'm supposed to be sleeping – or if I'm home alone in the afternoon.
In July 2019, I will be my cousin Mariska's Maid of Honour. I do a lot of stuff with my cousin Mariska. I have another cousin, Ainsley, and we always go out for sushi. I do a lot with Mariska and Ainsley, as well as with my brothers and sisters and their families. We are a close-knit family. We are also a hockey, Christian family. I got baptized when I was fifteen years old and we love the Toronto Maple Leafs. I met Jake Gardiner, Toronto Maple Leaf in Vancouver at a Special Olympics event. Then I met him at a pub in Toronto at another S.O. event, and my family and friends and I were asking him questions about hockey. I met him for a third time at a S.O. gala with his friend Morgan Rielly. I have a picture with them. I like meeting celebrities and I've met many, like singer Avril Lavigne, Twitch from So You Think You Can Dance, actress Ashley Olsen, and actor Arnold Schwarzenegger. "I'll be back!" is one of his famous lines, and "It's not a tumor!" is a line from the movie Kindergarten Cop that makes me laugh. I think he had a hangover – LOL.
Where I see myself in five to ten years — I would be in fashion. I love fashion and celebrities. And dancing at my own dance studio. I would love to tell celebrities what to wear. I have been on the red carpet in L.A. and I'd like to do that again. And I would also like to be a model or an actress because I like to pose in pictures. That's where I see myself. I would like to be a hair stylist. I also have many hairstyles in my head I would like to do for other people, like for proms or weddings, and for famous people.
My advice for people with Down syndrome is to follow your dreams and make them happen, like in the song A Star is Born with Lady Gaga and Bradley Cooper. That's what we are, a star that is born.
Emily Boycott is an accomplished athlete, decorated Special Olympic champion, world traveler, role model and public speaker.  In June 2019, she was the first person with a disability to be inducted into the Halton Hills Sports Hall of Fame.