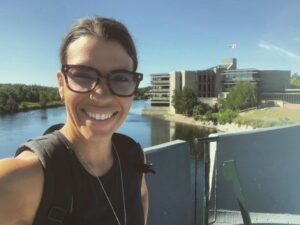 Trent University, Continuing Education Workshops
Creative Nonfiction, Part Two: Writing into the Personal
Date and time: Thursday, March 9 – Thursday, April 27, 2023; 6:30 – 9:00 p.m.
Duration and location: 8 weeks, on-line ZOOM
Course Description:
Creative nonfiction writing is about real stories, well told, that serve to both entertain and inform. What is your true story and how do you plan to engage your audience? Hold their attention? How do you shape your experience into a story others will want to read? In this introductory course, writers will learn how to craft personal stories with resonance and meaning. Each week will focus on various elements of craft, as well as questions that plague creative nonfiction writers: Is my story important? Do I have a right to tell my story? When is the writing 'good' enough? Every story has already been told, but it's how you recount that story and your unique voice that creates a compelling narrative.
This interactive course includes craft talk, writing exercises, workshop opportunities to give and receive feedback, and readings, contained within the confines of our class time, to give you a deeper understanding of your craft as you engage in the essential work of writing the true stories that matter to you.
Participants will have the option to work on one piece of personal writing throughout the course or be inspired by optional writing exercises provided. 
The Write Retreat: Creative Nourishment (includes optional yoga)
Date and time: Sunday, April 23, 2023; 1:00 – 4:30 p.m.
Duration and location: 3.5 hours; In-Person; Catharine Parr Traill College, 315 Dublin Street, Peterborough, ON, K9H 2Z4
Course Description:
How do you nourish your creative self? The Write Retreat is a place and a space to write, connect with other writers, and experience wellness for body, mind, and spirit. For the body, gentle mindful movement and breath practice; for the mind, guided meditation, writing exercises, creative discussion, participation; and for the spirit, sharing your work with one another, deep listening, giving and receiving feedback. Designed with the creative in mind, I invite you to a relaxing afternoon that involves writing, yoga, meditation, and a chance to reset and reenergize. If you are looking for the time and focus to engage in the craft of writing and share your work with others, this is the workshop for you.