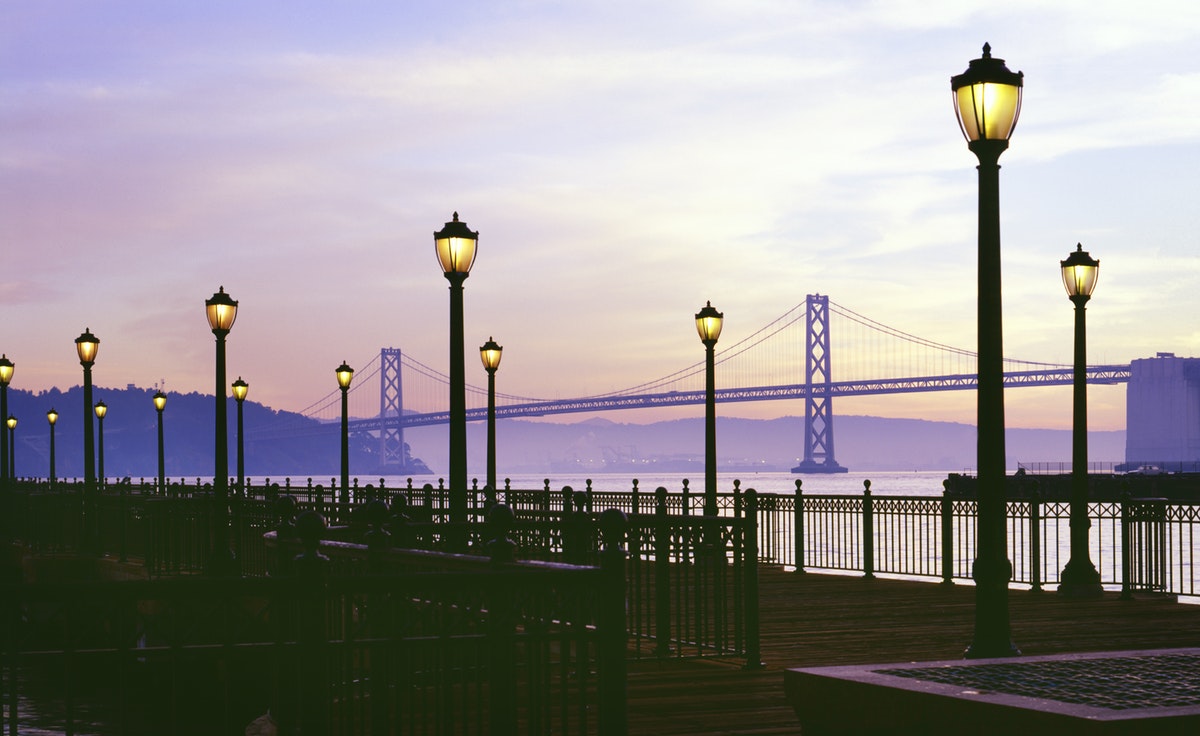 Elyse wakes up at 4:13 a.m. It's our first morning in San Francisco and we're staying in a hotel room Dan booked on points.
Our free hotel room consists of two separate rooms, includes a full kitchen, and that morning we enjoy a complimentary hot breakfast. We swim in the "heated" sparkling pool upon our arrival. We are pleasantly surprised.
My husband graciously slides out of bed, checks on Elyse in the bathroom. There's the pitter-patter of feet and two more sisters out of bed. I get out of bed to help but insist on keeping the lights out to try and hold onto the night. We're all shuffling around in the dark.
The day before, on the first day of our 'round the world trip, we arose shortly after 4 a.m. eastern time. We woke the girls from their peaceful slumbers – what felt like a violent act – and loaded them into the minivan. We ate a rushed breakfast past airport security then were delighted to find ourselves in row eighteen of the plane, the first row past business class with extra leg room. The girls were even gifted an activity bag as they boarded the plane containing earphones for the onboard TVs, a colouring book and a small foam game of exes and oes.
The first five hours of our flight from Toronto to California were smooth sailing. The girls settled happily into their seats, ensconcing themselves in ipad land, embracing permission long denied, finally granted, to go back to their beloved screens. Around the four-hour point of our flight, Dan and I insisted Elyse forfeit her screen to use the washroom on the plane. She was belligerent about the request but didn't cause much of a scene. When we unstrapped her from her seat she flopped onto the floor down on her bottom. She insisted on being carried to the bathroom. Dan didn't mind obliging, but we should have taken this as a sign. When the duo returned from the bathroom a second time, Elyse climbed into Dan's lap and tumbled into sleep. Her sleepiness was atypical, but not unusual given the circumstances. When Elyse awoke an hour later, it was time for landing. Penelope was getting giddy and worked up by this point in the five hour and forty-five-minute flight and when disconnected from her screen, Ariel had been uncharacteristically scowly and cantankerous. As the plane commenced its descent, tempers flared. Ariel and Penelope, seated to my left, went after each other. There was catty poking and swatting, eye rolling and whining. In other words, typical childish behaviour from kids who haven't had enough sleep.
Our plane touches down seamlessly and I look over across the aisle to see Elyse slouched down in her seat like a sack of potatoes. My two quarreling girls are settling, their cat fight giving way to the novelty of the moment – t'was but a scratch – when the words you never want to hear as a parent come barrelling out of my husband's mouth, "Are you going to be sick? Elyse, are you going to be sick?" Elyse looks placid, pale. Like she might cry. She's dry heaving and making that gagging sound kids make when they're trying to throw up. Passengers are disembarking all around us. Thinking fast on his feet, Dan reaches for the activity bag, containing headphones and all, and Elyse vomits into it. As it turns out, the poor kid suffers from motion sickness. And so we arrived in San Fran with a splash!
We got our rental car sorted without problem, Elyse recovered nicely and we were swimming in the hotel pool feeling nice and relaxed by early afternoon, having gained three hours heading west. On our drive to dinner, not surprisingly, Penelope fell asleep and by 8 p.m, it's safe to say, we were all knackered. Ariel and Penelope slept together and fell asleep in the exact position they first laid down in and Elyse took the pull-out, joining them in dreamland a few minutes later, with Dan and I not far behind them.
Why then, at 4:13 a.m., when our kids woke up in San Fran, did they seem so damn fresh?
By 5:15 a.m. I've given up on trying to get the girls to go back to sleep. Any pretense of getting them to rest has faded away, so I turn on a light and pull out their books. Dan has clamoured back into our bed and as I flop down beside him, I feel a deep-seated exhaustion, despite having gone to bed the night before at 8:30 p.m. My legs are lead, my head all foggy clouds, like the ones we flew through high in the air and the ones down below us enshrouding California hill tops.
"Why don't the kids feel exhausted?" I bemoan to my bedside partner.
"because they didn't have to get themselves here."
Elyse interrupts our sleep a few minutes later.
"I want breakfast."
Our time in San Francisco did not disappoint. We visited the tall and majestic sequoia trees in Muir Woods National Park. We took a short boat ride to Alcatraz – "The Rock" – and took a stroll down to Pier 39 to gawk at sea lions and ride the merry-go-round. We ate clam chowder at Fisherman's wharf and gazed out over the Pacific as the sun set in a dazzling array of purples, pinks and oranges. We crossed the Golden Gate bridge and stopped to take pictures. We experienced crime and big city problems. Homelessness. Bumper-to-bumper traffic. In the middle of the day, the car beside ours was broken into, smashed glass everywhere. There was a bomb threat nearby and several earthquakes an hour or so away. Nobody seemed perturbed. In comparison, I appreciate the relative calm and safety of our small town; the uneventfulness of small-town Ontario. Big city, big problems. Yet, San Francisco is not without its charms and character. Scooters and bikes and motorized skateboards abound. The giant sequoias and hearty palms, windswept vistas overlooking the ocean, and picturesque rows of stucco houses that go on and on in tiers packed into hillsides. Roads that disappear into the horizon. A shoreline with surfers, pelicans and sea lions; and who could forget that California sunshine. Even when it's cold in San Fran, it isn't really cold.
On our way into the city we came across miles and miles of white tombstones. An entire cemetery of them in the heart of the city. Ariel asked what we were seeing from the backseat. I told her it was a graveyard, and Dan added,
"That's where soldiers are buried."
"That's where the souls of dinosaurs are buried!?" Ariel was incredulous.
California has class and soul. The city has grit, but its inhabitants are peppy, friendly. Sun-shiny. On one such vista overlooking the Golden Gate bridge and the endless city, Ariel and I stumbled across a blond in a leather jacket, chest heaving, one leg propped up on her Harley with her burley fiancé, hipster beard and all, pressed up behind her for a photo shoot. With the golden gate bridge in the background, the pacific and steep drop to our left, I thought, yeah, this is San Francisco.