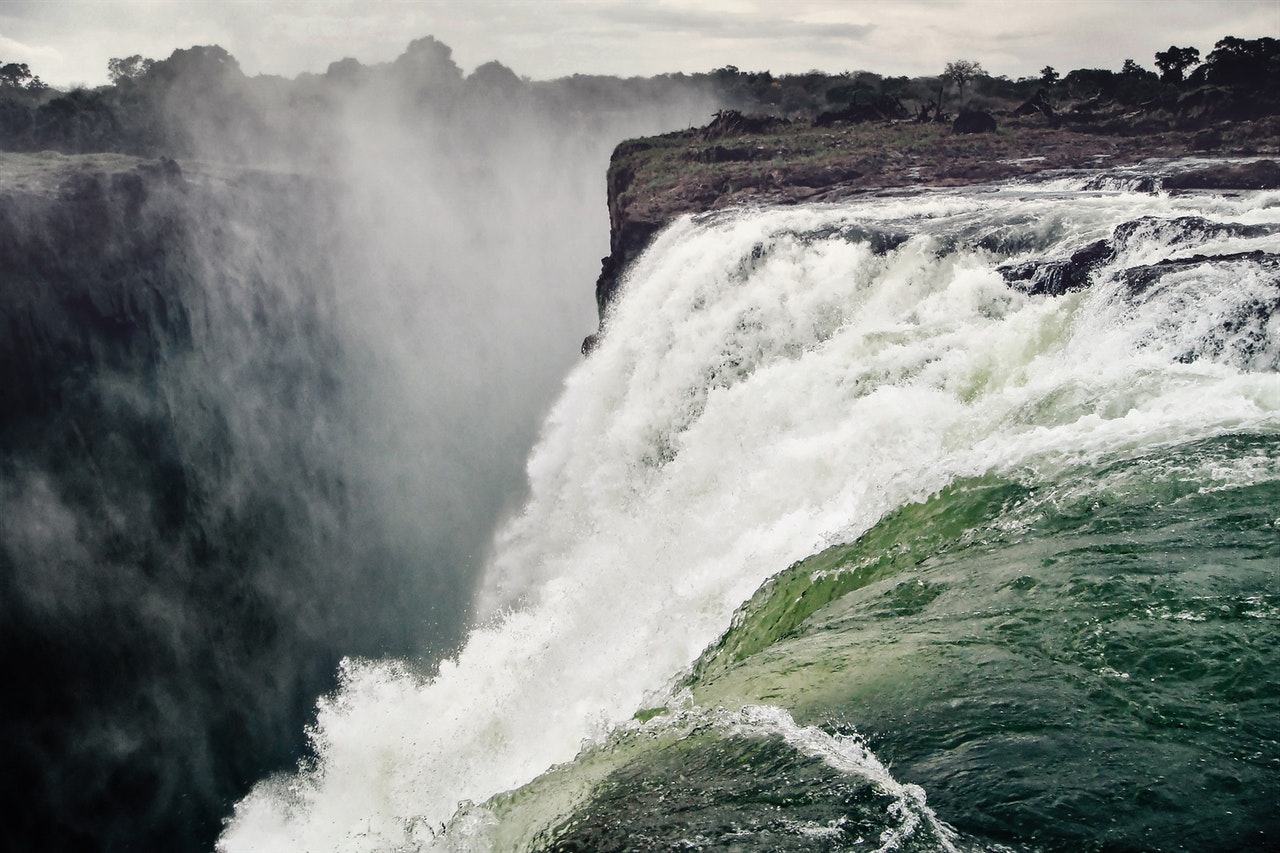 I'm going to write a blog about kindness on a day when I'm not feeling particularly kind. I'm not feeling particularly unkind, just kind of blah. You know when you have to face down something difficult? It can be like standing at the top of a roaring waterfall with no way to fight back against the current. The jump is inevitable, you have to do it. It's a long ways down, a far distance to go before the splash and the security of knowing you will resurface. I woke up with the water rushing all around me, sloshing in my head and ears, dragging me to the crest of the descent. I went over belly-up, kicking and screaming – or at least that's how it felt getting going this morning. The cascade wasn't pretty. Anyone who has kids and sees March break coming knows what I'm talking about.
So let me get to the point. Because we're here for only a short while, and we're going to talk about kindness today, dammit. Spoiler alert: I will touch on the ending of R.J. Palcio's book Wonder (if you haven't read it, and don't want me to ruin the ending, this is your cue to leave…wait, come back! It's not in a blogger's best interest to tell their readers to leave. Just skip over the next two paragraphs, and quit whining about it already. Forget that. Be kind. No name-calling.)
The book Wonder, which I would argue is written for children and parents alike, is the story of Auggie Pullman, an intelligent boy with severe facial deformities and medical concerns who is about to attend middle school for the first time. The issues of acceptance and kindness are central to the book. At the end-of-year graduation ceremony, the school principal reminds his students in a speech, "Courage, Kindness, Friendship, Character. These are the qualities that define us as human beings, and propel us, on occasion, to greatness."
He goes on to remark:
"Greatness lies not in being strong, but in the right using of strength…He is the greatest whose strength carries up the most hearts…He is the greatest whose strength carries up the most hearts by the attraction of his own." The principal is of course referring to the boy who showed true strength and courage throughout the entire school year, just by showing up, in the face of ignorance.
He is the greatest whose strength carries up the most hearts by the attraction of his own. Wow, that's powerful. And to me, that evokes kindness, compassion, empathy.
This way of being reminds me of a great philosopher, visionary, and disability-rights activist, Jean Vanier, who writes, "theirs is not a life centered on the mind. So it is that the people with intellectual disabilities led me from a serious world into a world of celebration, presence, and laughter: the world of the heart." He describes the relationship between the one who is healed and the one who is healing as constantly changing places. Everyone has something to offer, and we all have times of need. In his book Becoming Human, Vanier writes about our fears of those who are different from us, "…because we are not clear about what it means to be human…we have disregarded the heart."
Kindness, or at least the form of kindness where we must appear vulnerable in front of the cool kids to do the right thing, isn't a weakness then, it's a strength. A strength of the heart. Allowing ourselves to be vulnerable by showcasing and accepting our strengths, as well as our weaknesses, is what makes us human.
I love the tie in with disability, because having a disability or being viewed as disabled is so commonly perceived as a weakness in our society. But we must also accept and acknowledge that it is a strength. Differences can be perceived as weaknesses or they can be perceived as strengths. No matter how you spin it, it's important to point out that what we perceive, or society perceives, as our greatest weakness can in fact be our greatest strength.
I'm getting derailed here. I'm supposed to be talking about kindness, and I'm talking a whole lot about strength. I guess that's because what I'm getting at is that kindness, and our great capacity for compassion and to feel empathy for another, is a huge strength, maybe the greatest one we have.
Kindness is contagious, and it helps us to build connections. I experienced this when I responded in kind to the caring words that came my way when I started my new blog. I felt compelled to reach out to another writer and compliment their writing. The compliment was genuine, but the feelings of kindness that had first been directed toward me helped draw it out.
Kindness is hard-wired in our DNA and essential to our humanity (even if it's hard to admit it when you're having a grumpy day), but you still have to choose to be kind. "When given the choice between being right or being kind, choose kind." Another quotation in Wonder, this one from Dr. Wayne Dyer.
And if you're going to choose kind, that kindness has to start with being kind to oneself. For me, that kindness looks like not berating myself for reading a book when I should be writing, or taking too long to start writing, or producing writing that isn't good enough (the theme of this morning is writing challenges). In truth, I panicked slightly once I realized the kids were all out of the house, and so I better get to work NOW, TIME is running out! But where to focus, I have no idea WHAT I'M DOING (though I have lots of things to do), until I took a deep breath. Inhale. Exhale. I walked the dog. I made myself two fried eggs and a piece of cinnamon honey toast so that my belly felt warm and full. I drank my tea. Then I patted myself gently on the back, and said, "it's okay, take your time. You'll come around." I read a book, Heroes in My Head by Judy Rebick, for half an hour. Finally, without judgement, I sat down and I wrote a blog. The blog in front of you. Part of me is still kicking and screaming into the mist, stuck in that downwards flow, but mostly I'm one with my surroundings now. One with the beauty of nature around me. With kindness: that's where it all starts.