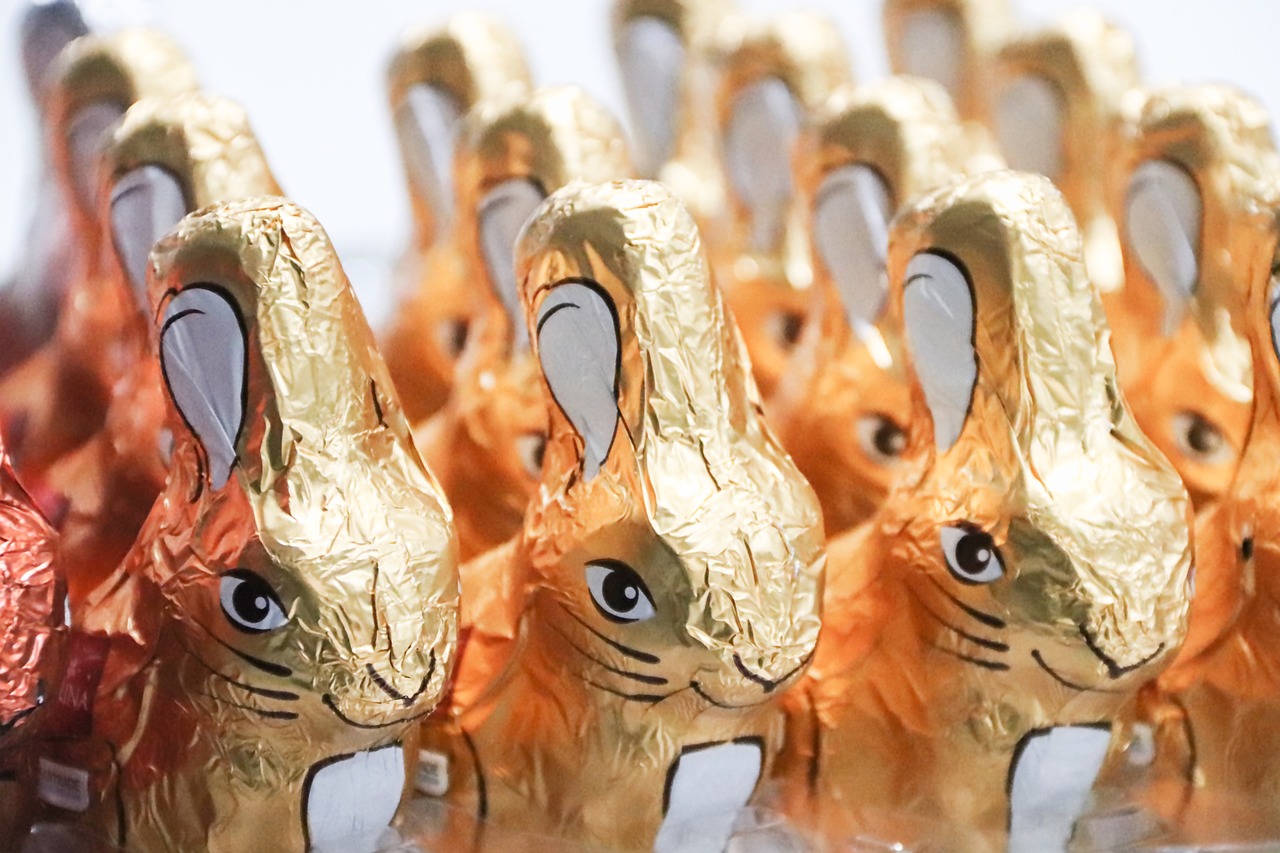 A father bemoans the inequities of the Easter bunny's delivery of bounty on Facebook. "Please parents," he pleads, "can we just stick to chocolate and candies this year? So I don't have to tell my kid why the Easter bunny brought his classmate a bike, and my kid only got chocolate."
Aside: this post is in no way meant to undermine the religious underpinnings of the Easter holiday, but rather I'm focusing on its commercialization. On the pressure each holiday brings to buy my kids stuff.
I'm a person who loves celebrating special occasions, but what I don't love is the pressure to buy into all the paraphernalia and trappings associated with each holiday. Well, I do and I don't. Items that can be reused year after year are wonderful. When it comes to getting new stuff, I liked getting gifts as a child (and arguably, I still do), but as an adult I find it tedious work buying trinkets at best, and at worst: wasteful, unhealthy, and extreme. Spoiling our children to the max on special occasions borders on harmful not only for our bank accounts and the environment, but in what it's teaching them to value. Let's face it: an abundance of junk is overstimulating for children and underappreciated, even if that junk has a hundred dollar price tag on it. Even if it doesn't cost an arm and a leg, too much is still too much. This is the trap I fall into: it's cheap, so it's okay for me to buy more of it. Take candy, for example. It's easy enough to come across, but kids are going to get sick from eating too much of it – or cavities, or obese, or form life-long habits leading to an unhealthy lifestyle. Note: I said too much candy. I'm definitely not against some. If it's too many toys, consider this. A toddler is more likely to play with a toy if they only have a choice or two or three in front of them, versus say, twenty. At twenty, the toddler walks away, overwhelmed. There is research to back this up: less is more.
Yet, season after season, I'm still out there, curating content to fill the stockings to bursting, ordering that last gift online to fill every nook and cranny under the tree because sometimes I get tied up in the myth that to show my kids I love them, I need to buy them stuff; and that if my love for them is superior, then so too should the gifts I provide for them. I'm guilty of perpetuating another myth of materialism – that it brings happiness – times a thousand. I buy enough chocolate eggs to feed a small army because these are the traditions I grew up with. I learned to associate more stuff with more fun! Because who doesn't like getting more stuff? Especially as a kid who is entirely dependent on the adults in their life to buy them things. Precious, precious things! Like Seuss's Once-lers' thneed that everyone, everyone, everyone needs (note: no they don't). Stuff, for the sake of stuff.
The Easter bunny visited our three girls. While we encouraged Ariel to write a letter to let the Easter bunny know her wishes as she bombarded us with requests, we were quick to remind her to keep her expectations in check.
"The Easter bunny isn't like Santa," I told her, "he doesn't bring presents." She nodded her head solemnly, but I know that's not what she was expecting or hoping for because in the past, the Easter bunny has brought the occasional present. I don't think there's anything wrong with this, per se, except that my kids don't need any more presents or toys, and you know what, they are happy, completely joyful, living with less of the things they don't need.
Come Easter morning, on her way down the stairs, almost three-year-old Penelope picked up four hidden chocolate golden coins. She was so happy, she ran all the way back upstairs and climbed into bed to show me. "My gosh!" she was saying, "My gosh!" she couldn't believe her luck, and she hadn't even seen the baskets of candy downstairs yet; she didn't even know about the egg hunt ready to go. Dan and I were thrilled for her, mustering up our best excited faces in response to her appreciation for the mundane in the early hours of the morning. Her glee turned my reaction into real and true enthusiasm. Her innocence left me feeling hopeful and inspired. If our version of Easter had ended right there for Penelope, it would have been a fantastic day.
In lieu of the toys a part of me wants to give my kids on Easter morning, I've taken up a practice my parents carried out for us in our teen years, the giving of essentials as gifts. Yes, there were chocolates and candies, but in addition each girl was given a new pair of shoes – and this is the important part – that she already needed, as well as a small stack of clothes for summer: a few t-shirts, a dress, or pair of denim shorts. Simple and practical. In a less than proud moment, I caved and got each girl a new stuffed animal too (of which they have dozens), but maybe we can overlook that and move on to how my children received their gifts.
The girls were overjoyed. Elyse especially gravitated right to her new rubber rain boots and held them up proudly in the air. She reached for the boots before even the chocolate in plain sight. "Look at these, mommy and daddy!" She needed new rain boots and I could sense she appreciated having that need fulfilled. Penelope walked excitedly around the house in her new runners, and wanted to test them outside, and Ariel was thrilled to receive her first pair or lace-up shoes. If tying laces doesn't make you feel like a big kid, I don't know what does. I spent a few minutes teaching her how to tie a bow, and she was off and running with a new skill. Each child played with their one new toy, the stuffed animal. Each child devoured copious amounts of chocolate. We all searched for eggs, which were then divided equally, and the kids had a really fun time, we all did.
What stuck out to me was the kids' reaction to their new clothes and shoes. If it were any other day, they would be excited to receive new clothes, true, but it isn't cause for celebration. Our kids are very lucky in that whatever they need, we are able to buy it for them. As childhood is such a transient time, each season generally warrants a new mini wardrobe. With three girls, we certainly do the hand-me-down thing, and also accept used clothing in good condition from friends, but even still, they get spoiled with new purchases. It's so easy for them to take these purchases made on their behalf for granted; how could you not when they seemingly happen every season? By giving them items they need for summer, it was a statement: this is a special occasion, and receiving new clothing is a gift and something to be thankful for. And the girls were grateful because you know what? This clothing came from the Easter bunny! So it must be special.
Giving your children clothing on special occasions isn't going to erase inequalities between families, but it is sending them the message they have many things to be grateful for and that it isn't toys that make the holiday fun anyway – it's family. Spending the time together, watching the girls' reaction to their Easter baskets and their detective skills in the Easter egg hunt, made my morning.
What the girls actually receive means less than the traditions we are building as a family: decorating Easter eggs, the egg hunt, and a large bacon and egg breakfast Easter morning. The time we pour into our children, into each other, that is what counts.
As moms and parents, we put a lot of pressure on ourselves to get it just right, but my kids cared more about my willingness to engage in their games – my enthusiasm about their Easter treasures – then the actual treasures themselves. They were looking to me and Dan to gauge their own excitement. Well, except the chocolate. Sugar is sugar, and they've got that one figured out.
The best thing then, that you could ever give your child on Easter morning, or any day of the week, is your love and attention. Forget about toys and sugar, love and attention is what they crave the most.