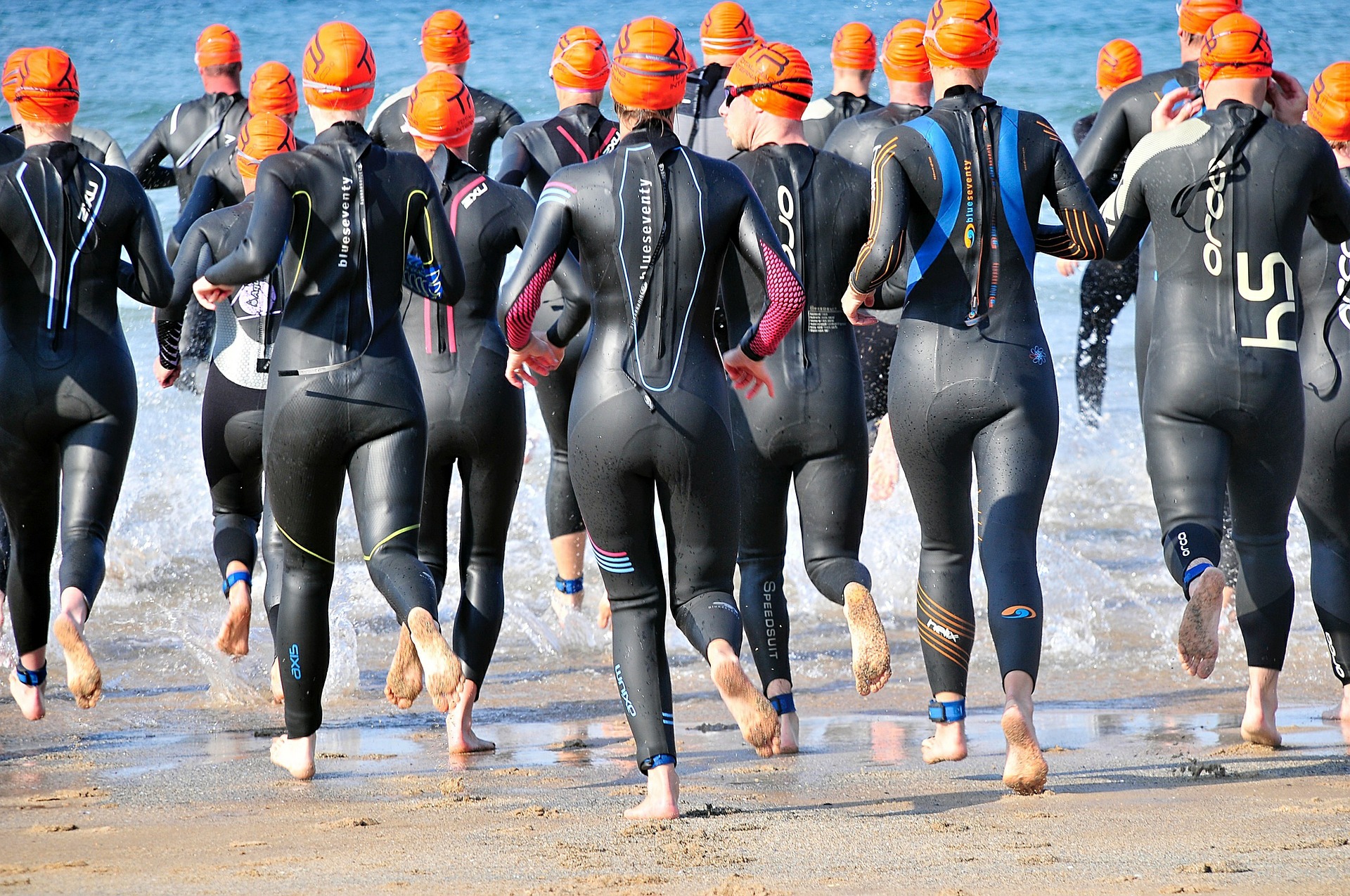 Learning something new is hard.  Prioritize.  Last summer, in the spirit of marathon training, and pushing myself to get fitter and try new things, I thought adding in triathlon training would be a great boost to my fitness level.  The additional new challenge was a mistake, at least for me.  Having gone through it, my advice is to tackle one new sports adventure at a time.  The strenuous runs of marathon training left me depleted – too tired, much too tired, to tack on extra swims and bike rides.  I needed my two days of rest.  I couldn't focus or fit all the workouts required into the week without doubling up on workouts (we'll get to that), and I wasn't willing to sacrifice my ultimate goal of completing a marathon by cutting out runs.  Last summer, marathon training took precedence; this is the summer of the triathlon.  One thing at a time, at least when you're starting out.
Bricks is a real thing, and not the kind you use to build a house.  I'm discovering the joy and the burn of bricks, back to back workouts, this spring.  I'm definitely new to this, and working on adjusting and attuning my workouts to my body's needs, but essentially you can do a swim, then a jog; a bike route, followed by a run.  Two workouts in a row, however you like, but usually, the run comes at the end.  In theory, you'd think that's because it's easiest, but from a fitness standpoint, I'm not sure if that's true.  The other day I performed my usual long Sunday run, a ritual I've kept up faithfully through the winter.  For runners, the Sunday run is familiar, a long jaunt at a comfortable pace.  I made sure to knock out at least hour-long runs through the winter months to keep up some endurance.  On this particular day, I ran thirteen kilometers in an hour fifteen.  I hadn't meant to run that far, but as the route played out – I had.  I gleefully accepted my family's invitation for an early Mother's Day brunch at Cora's, fed my growling stomach, then proceeded home for an easy two hour bike ride with my friend.  Easy for her maybe.  Pushing to reach the peak of every hill we crested, my legs burned a deeper sensation than anything I'd experienced on my light-hearted run.  My friend laughed at me kindly, suggesting I may not want to run before our ride the next time.  I'm thinking she was right, but am still resistant to giving up my Sunday run, or even moving it to Saturday, or Monday (my day off), but I may have to.  I laid down, immobile for several minutes, on my bedroom floor after almost three and a half hours of moderate to intense exercise, and Dan just laughed at me, "You done?"  While, from a purest perspective, this might not have been a Bricks workout per se, with a Cora's breakfast in between, it achieved the desired result all the same.  "Bricks" refers to the leaden feeling in your legs, especially after coming off the bike and going for your run, with back to back workouts.  Another combination I've now attempted and plan to repeat is the swim/run combo.  Though this combination of activities doesn't play out in the Triathlon's swim/bike/run sequence, it's quite an effective workout.  On my first go, I swam for 20 minutes, about 30 laps, then ran for 30 minutes, 5.5 kilometers.  Fifty minutes of exercise midweek felt great.  The challenge was fitting this all in before getting the kids to school and an employed husband off to work.  You have to find ways to make it work.
Getting injured sucks.  Again, a year ago, while marathon training, I was running more kilometers than I'd ever run before.  I should have considered this was not the time to try something new.  I bought my first used road bike anyway.  My first real ride out on the road, wearing new special shoes with my feet clipped in to the pedals, when the path I was traveling on split, I waffled on which way I was going and came to a stop at which point my feet, firmly clipped in place, failed to catch me and I toppled over.  My gut instinct was to place my hand down to brace my fall.  Big mistake.   I would feel the strain in my wrist the rest of the summer and that effectively cemented my decision to put triathlon training on hold.  When you're trying something new, like having your feet clipped in, you're going to fall.  It's inevitable.  I needed to be in the right head space for that, and know that bracing myself on my side was a better idea that catching the weight of my fall solely on my weak wrist.  I also should have put off getting clip-in shoes until I was comfortable on the bike.  I've been out a few times this year now, and I'm just allowing myself to feel at ease with the placement of the gears and how my road bike works out on the road.  Adding in locking my feet in place, as well as cycling on the road with all its inherent dangers, was too much for me to process all at once.  This year, I'm breaking it down a bit, and building my confidence by heading out with friends who know what they're doing.  Which brings me to my next point.
Training with a friend is more fun.  I enjoyed having Dan as a running buddy for the two plus hour weekend runs we did in preparation for our marathon, but I was just as content to do my short runs on my own.  I actually love and relish the solitary nature of running.  Swimming at the pool, I don't mind hitting the lanes solo, but when it comes to getting out on a lake?  It isn't smart to swim alone; I've got plans to go with a friend.  Both of my longer cycles have been out with friends this year, and it made such a big difference, especially in my confidence on the road and my ability to get through the ride.  Halton Hills where I cycle is, well, as you can imagine, hilly.  My legs were burning through those rolling hills, but I felt a whole heck of a lot better knowing my friend's legs were burning too, and that we'd be able to joke about it on the other side.  From a safety perspective, on the bike there's safety in the peloton.  Cycling also takes a long time!  You can't hammer out a five kilometer run in twenty eight minutes and be done with it.  No, no!  To get a workout in, you're out there for at least two hours.  It's nice to pass the time with someone by your side, and to have someone looking out for you and vice versa.
There are unwritten rules of the sport.  I look to my friends with experience to fill me in on the subtleties of the sport – I'm still learning.  As I stumbled through my first Try-a-Tri using my old mountain bike early last summer, I quickly learned my place as the newcomer, as we were relegated to the least desirable stations on the bike rack.  I learned about the extensive tattooing that goes on with black permanent marker up the back on my leg and across my arm, and how to hang my bike by the rear of its seat.  An official spoke to me sternly about when you have to mount your bike – was it before the start line?  And how you must do the inverse on the way back, dismounting and walking across the line, which makes no sense to me.  I'm going to have to check that again, before my next race, because there are penalties if you don't get it right.  I tried to bring my phone out on my ride with me and was stopped by another official.  "You can't bring that out there."
"I'm using it to track my distance," I quipped back, trying to appear like I knew what I was talking about.
"Hmm, okay."  They had announced this asinine rule about phones being allowed on the bike course ONLY if used as a metric device.  I now have a watch, and will leave my phone behind to be picked up for the final run segment of the race, as I love my tunes.
There's an unspoken motto between cyclist to "look after your own".  Fooling around by myself one day, cycling through my neighbourhood, testing out my new road bike then stopping before crossing the road, a cyclist dyad came to a halt across from me on the other side of the street.  "Do you need any help?" they asked.  Did I look like I needed help?  Probably.  "No, I'm fine, thanks."  I waved them on, slightly embarrassed.  They lingered.  "I'm almost home," I assured them.  Cyclists look out for one another, and a cyclist pulled over to the side of the road, their wheels no longer in motion, may need a hand.  It's nice to know I'm becoming part of a community.
Swimming, on the other hand.  I swam in the fast lane at the pool for the first time the other day.  I've been swimming regularly over the last year and building up stamina.  When I started, I had a hard time finishing a lane of front crawl properly (despite loving swimming my whole life) and now I can swim fifty laps in about half an hour.  I'm not breaking any speed records, but I'm happy with how I've improved, and know I will continue to do so.  Anyway, when I arrived at the pool during my usual time on Saturday morning, I looked around and the fast lane had the least amount of swimmers, so I hopped in.  A friend of mine leaned over from the medium speed lane, "Oh, you're in there now, are you," she said, a sparkle in her eye, "Watch out for the big girls."  Well, truth be told, I was jostled, nudged, and passed as these "ladies" somersaulted past me and rocketed themselves off the wall.  Once I came up to breathe and ended up sputtering and choking on water that was kicked in my face.  I loved every second of it.  The big girls obviously have swim experience dating back to the womb, and ran through their drills like clockwork.  I admired their competitive spirit, and I figured out how to stay out of their way.  So unspoken rule number one, don't go in the fast lane if you can't handle the heat.
A runner does not a triathlete make.  A word about fitness and transference.  I do think I am a better cyclist because of having my legs trained for running.  Better than I would have been had I not been a runner, at least.  But being a good runner, a marathon runner even, does not make you a good swimmer.  Swimming, I'm coming to learn, is all about breathing and good technique.  I'm trying to read up about it, but I think investing in a swim coach may be worth it.  The swim kicks off the whole shebang, and for some, there's the added stress of the open water and risk of drowning in a panic.  In my first triathlon last year – I did complete one Try-a-Tri before calling it a season – I completely underrated the importance of the swim.  I love swimming!  How hard could it be?  Hard.  Like, really hard.  Friends warned me that during the swim I might get hit or kicked in the face, and to watch out for flailing arms and legs.  I was the person with the flailing arms and legs others had to watch out for.  I confessed to another friend beforehand that I didn't think I could sustain front crawl the whole way because I hadn't practised very much (I'd only gone to the pool twice).  He looked unsure, shaking his head, but suggested maybe I could back crawl for a while.  In the end, during that short swim distance, I swam every stroke in the book.  Except front crawl.  I did front crawl for the first three stokes, came up sputtering and choking on water (like with the big girls), and moved right on to breast stroke, in my comfort zone, which is not exactly known as being the triathlon stroke of choice.  I know I made it onto my back at some point too.  And sideways.  On both sides.  Yikes.
Train hard and reach for a goal.  This year, I'm approaching triathlons as my sole focus, and have put more effort into my swim and bike training.  I'm incorporating weight training and stretching through yoga into my training as well.  I hope this will make me as prepared as I can be for my second ever race, and that I can finish it feeling depleted, but happy with my preparation.  I have a secret goal, too.  I usually keep my goals to myself, but it sometimes helps to share them.  I want to complete the Sprint distance this year, not just the Try-a-Tri, which increases the length of the swim to almost double, and increases the cycle and run distances as well.  It's the swim I'm worried about, and I think that's what the majority of triathletes would tell you.  Nevertheless, by the end of the summer, maybe even my first race – we'll see – that's what I'd like to do.  I'm not the kind of person who jumps right to the marathon distance, never have been.  That's just not me.  Instead, I'm the person who makes the slow climb to the top, with missteps and close-calls along the way.  I dangle and scrape by until I'm ready for the next pitch.  To those who start at the summit and tackle the ironman Triathlon distance which begins with an almost four kilometer swim, followed by a 180 kilometer bike ride and ends with a full marathon, I salute you, and maybe I'll meet you there one day.  One move at a time.  If I do, there's going to be a tattoo involved, a real one.
There's a lot of gear involved.  Getting into triathlons is expensive!  Being a runner is awesome.  All you need is yourself, some workout gear (any old t-shirt and a pair of shorts will do), and a pair of running shoes you need to swap out every once and a while.  Done and done.  Okay, if you want to get fancy, you can add in some sort of device and wireless earphones to play music, and a high-tech watch to track your speed, distance and pace.  You won't get hurt without the extra gadgets though.  And heck, there are ultra-runners who race around bare foot and shirtless through the high-range sierra mountains.
Cycling comes with its own set of paraphernalia.  You're going to want padded shorts, and even then – ouch.  There are racer tops, which I somehow got suckered into buying.  You'll need glasses to protect your eyes against bugs and the sun, and a solid helmet to keep you from dying when you fly off.  There's also bike shoes that clip into special pedals and the padded gloves to protect your hands.  And that's just the gear on you.  Then there's the bike, the priciest piece.  I'd never considered the type of tire, rims, seat, frame or brakes my bike had before, but those features are majoring selling points for hard core athletes.  I bought my road bike used, but new road bikes start anywhere from a few grand upwards of $10,000 or more, the price of a small car.  This does not interest me in the slightest.  I just want to get out and ride with the bare minimum of hassle.
There's the pump you need to inflate the tires and keep them rock hard for maximum performance, and the adapter, that little gold nugget, you need to enable pumping.  A light, reflectors, bell, water bottle holder and (optional) storage compartments to adorn your bike, as well as an odometer or other necessary device to track your distance, speed and cadence (pedals per minute).
With swimming, you need access to a pool, which unless you live in a temperate climate year 'round, and have access to a lake or swimming pool, probably involves paying some sort of fee to use an indoor public pool.  You need bathing suits, to be sure, and I have tried swimming lengths in the pool without goggles and I do not recommend it.  I've also tried getting away with cheap goggles and learned the hard way why that doesn't work either (because they don't work).  Don't forget that stylish plastic cap for your head!
But wait!  Now you want to race and you're going to swim in open water! For buoyancy, and protection from the elements you're going to want a wetsuit.  You can rent one for about $50 or, you can do what I did, and buy one used or new.  I got mine used for $100, and have used it more than twice, which is nice, with plans to use it more and get my money's worth.
Being involved with triathlons is expensive.  At least initially.  See note above regarding gear.  Add in the cost of registration, getting to races, factor in any hotel costs if you need to travel and stay overnight for an early start and did you know, there is even a triathlon suit you can wear?  I bought one after my first race, though I now think it looks ridiculous.  Think of a one-piece cross between a bathing suit and padded bike shorts, and if you're me, for some reason you'll buy the one in black, pink and blue with polka dots.  I'm forcing myself to wear it this year, as a penance for the silly splurge.
So why put myself through the financial cost, the scheduling burden, the overwhelming amount of gear, the risk of injury and the challenge of it all?  I think I answered my own question with that last bit.
Multi-sport training is fun.  I love being active outdoors, and I love to challenge myself mentally and physically without putting too much strain on my body.  I think training for triathlons is a good way to accomplish both of those goals.  I'm new to the sport, and I hope to one day look back on this post and laugh at myself gently holding all the knowledge, training and experience from the ledge where I have yet to stand.  Until then, I'll take things one stroke, pedal, and step at a time.