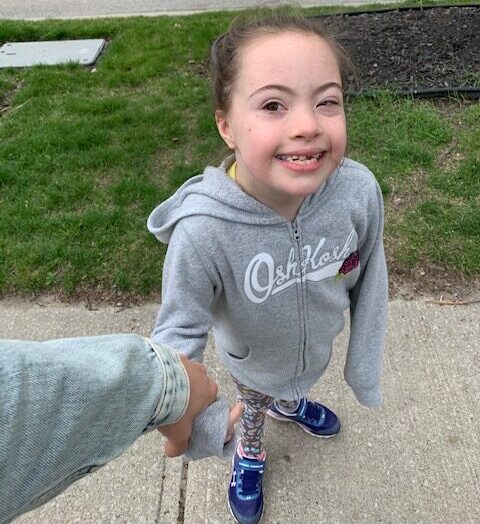 Okay, I should tell you right now, there isn't going to be anything serious about this post. When I say "get in trouble", I don't mean like, tell her to climb on a portable roof and then call the police, I mean it in the sense of discipline. Dear reader, I think you knew that. If you're looking for useful tips on disciplining your child—please—turn away. If anything, what I have to say is pure entertainment. Humour. Funny, yes, because parenting Elyse is a constant reminder not to take myself so seriously.
I've shared this story before, but it bears repeating here.
I'm playing outside with the girls. Dan isn't home and Elyse heads inside. She promptly locks the sliding glass door behind her effectively locking us all out. She then helps herself to treats. She flaunts the fact of the treats in my face, as I kindly mouth, "Elyse, please open the door." She wiggles her hips side to side, sliding chocolates into her mouth, one right after the other. OPEN THE DOOR.
In the aftermath, a good reprimanding is in order.
I'm trying to be serious, to be taken seriously. Locking your mom out of the house is dangerous. "Elyse, that was very dangerous. You can't do that again, okay? Don't ever lock mommy out. What do you SAY to mom, Elyse?"
Elyse, eyes downcast, chin low, tries to embody the seriousness I'm calling for, but then, in her defiant way, she mutters under her breath: "Sorry…poopy."
Sorry, poopy. Sorry, poopy? How do you not die laughing right there? How are you supposed to parent that?
Another time, this time with Dan. It's dinnertime, and Elyse decides to knock her sister's empty cup onto the floor. After some prolonged negotiating, Dan grows weary and attempts to be firm with her. Her outright refusal to pick up the cup and his refusal to give in is a comedy sketch in itself. Dan feels like this is a battle he can't lose. He uses his strongest fatherly tone.
"You're going to pick that up!"
"Fine," Elyse says in a flat monotone voice. She initiates the slightest movement.
"Elyse. Let's go, pick up the pace," Dan requests. But already, he's softening. And at this, Elyse swivels in her seat on the bench, inching her body at a devastatingly slow pace, exaggerating each small gesture like a mime under water, punctuated with a look of utter indifference. He tries hard to keep a straight face. And fails.
In the midst of moving, we've been making forays to ice cream parlours and friendly backyards while showings take place in our home. On one such outing, Elyse decides she'll stay in the car eating her pizza while the rest of us pile out to grab a cone. The next thing I know, Elyse has abandoned the vehicle and is standing next to me across the parking lot. No big deal, I could see her the whole time, but the next day she does it again, crosses a road without looking. This time all kids are to wait in the vehicle parked across the street while Dan and I have a quick meeting with our real estate agent. Out of nowhere, Elyse is suddenly on the road disrupting the meeting. She comes flying at us, running across the street, arms flailing, full of vigour, yelling, "I'm BAAAAACK!!!" Dan and I look at each other, trying to keep our composure as our agent natters on.
"I guess," I say to Dan later, "we didn't explicitly tell her to stay in the car and not run across the road." I guess we can't really get her in trouble for doing it then, can we?
But maybe the whole point of this post is just to say that sometimes there's a better way. Than anger. Than yelling at our children. Than outrage and frustration. Than parenting until we're blue in the face. Than trying to make our kids act in a way that we consider to be just right. We have to keep them safe. Of course, we have to keep them safe. Conversations need to happen.
But maybe, sometimes, our kids know something we don't.