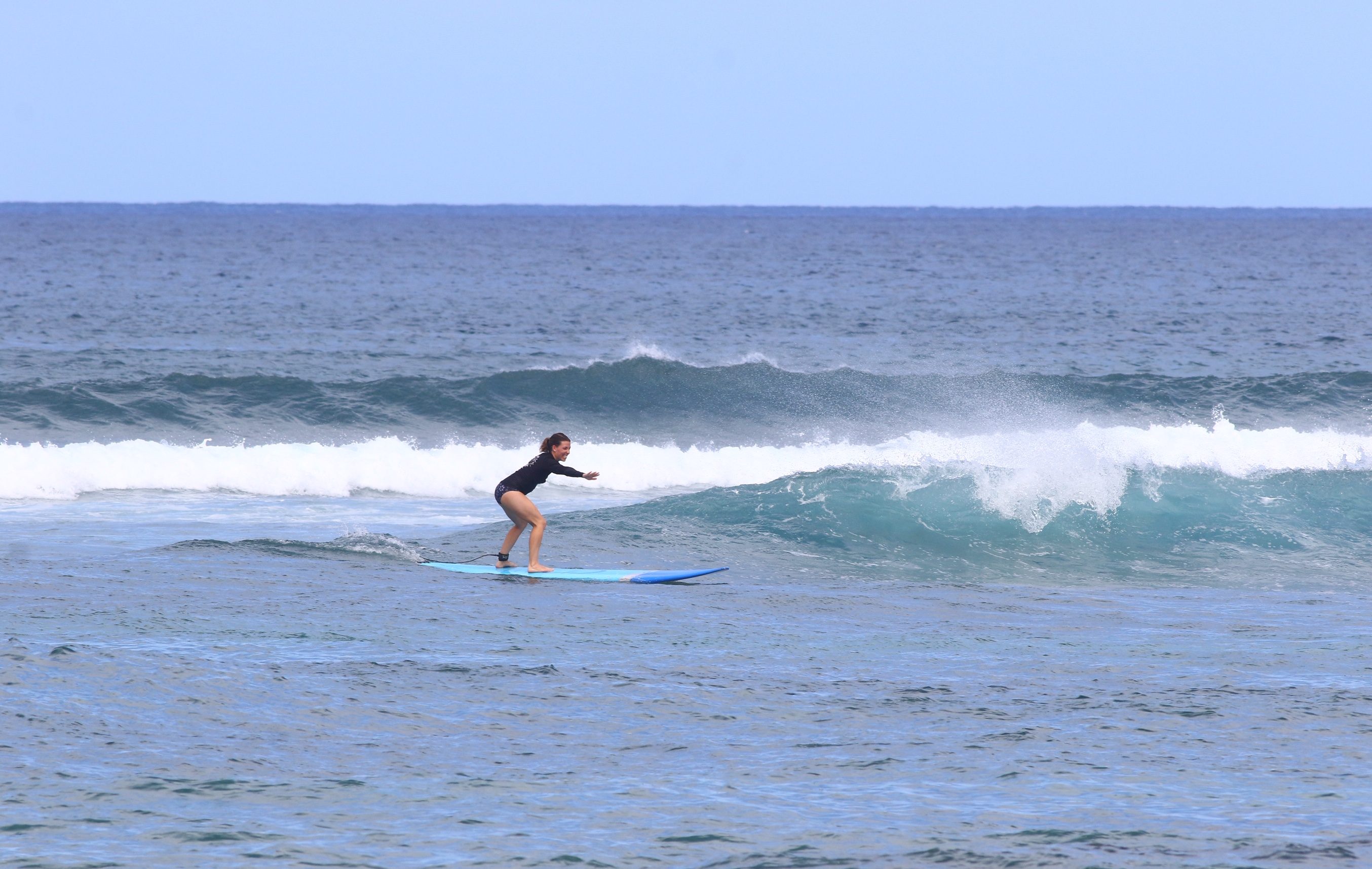 It's a Friday, I woke up early this morning, 6am, as I have almost every day for the last week and a half since our travels began. I don't mind early mornings and travelling west suits me. Looking out our window with a view of the Pacific, there's a certain quality to the light that isn't duplicated at any other time of the day. On this last day in Hawaii, I don't want to miss it. The early morning's light is as fleeting as our time on the island.
The beach house we stayed in for three nights on Oahu has a row of large ocean-facing windows. When I look out, I can't help but smile at the surfers that make their way toward big distant waves, paddling far out unfazed, hands cupped with clear strokes, over the sharp rocks and coral and sea turtles and whatever else lies below. For the people here, surfing is a way of life. Our surf photographer first took his baby out at six months old. Locals get up early, pack up their board and gear and make their way down to the beach. With the wind picking up, the surfing conditions appear to be excellent and blinking out at the blue sky, the warm sun overhead, I wish I was heading out there with them. But it's not to be, we have a flight to catch.
While in Oahu, our entire family had the opportunity to try surfing. From the onset, I was extremely nervous – though I wouldn't have admitted it – both for myself and because of the helplessness you feel when you're putting your children's safety into the hands of another. We had to trust complete strangers to keep our children safe far from shore, amidst powerful ocean waves. Trust can be won and lost in an instant.
Thankfully, we were in highly capable hands with North Shore Surf Girls company. Three instructors, plus a photographer (also a skilled surfer), were there looking out for us, and had our family secure and locked down at all times. The kids each wore a life jacket, for starters, and Dan, Ariel and I were all tethered by the ankle to a giant floatation device – our surfboards. Having instructors was key: they not only showed us the ropes and taught us the beginner basics, but they set up our waves for us. Essentially, they kept an eye on the waves, brought us to the right spot and helped us get into position, then they pushed us into the wave and yelled "Paddle! Paddle!" at which point you paddled with both cupped hands. You then heard "push up!", which meant you were to slide your hands down to your hips and lift up your chest, so you look like a seal. The next part was up to the surfer. On land, we did a dry run of proper surf technique. For the beginner, push up your chest, then slide up to your hands and knees; next put your right foot forward, push up onto two feet sideways, remembering to keep your knees sufficiently bent and your hands touching the board for balance and to turn your feet sideways, then once – if – you make it that far, both hands come off the board and your arms go out straight for balance. No problem.
Standing at the shore, I cupped my hand up to my face, shielding my eyes, to watch the other surfers out in the distance. What had I been thinking dragging our family into this? To add to the butterflies in my stomach, Penelope was being uncooperative. She wanted nothing to do with this surfing business. With much protestation, we got her onto the board with me, laying her on her stomach, and with Ariel on her own board to the other side of me, one instructor, Alexa, strapped on flippers, then holding onto her surf board with her arms and placing one flippered foot onto both my board and Ariel's board, we set out into the ocean. She towed us out and maneuvered us carefully, avoiding any big waves, and the first knot in my stomach began to unfurl taking in her skill and agility in the water. Elyse was sitting on a board with Carol, the incredible owner and operator of NSSG and Dan was, funny enough, left to paddle himself out. Jenn, our third instructor set out ahead to create a "holding" area. The holding area was a calm zone in the water where we would wait as a group when not surfing, and the area we had to paddle back to after surfing a wave. You could think of this area as a chairlift on a ski slope.
Once we made it over to Jenn, Dan and Ariel were led immediately over to the waves with Elyse and Carol close by. Jenn made friendly chitchat with me in the holding area while I craned my neck wildly to see where they were taking Dan, Ariel and Elyse. Her voice was soothing and reassuring, but I needed to have eyes on my family. Dan would be the first to try a wave, and I saw him go out and then bail hard. When he fell off, he dipped below the waves and for a minute I couldn't see him, but next thing you know he popped up with a smile on his face and I watched him paddle off to the right. I allowed my body to relax on the surfboard a smidgeon, but then it was Ariel's turn to be pushed into a wave and I tensed right back up again on her behalf. They sent her on a wave and there she went, off on her own. She made it to her knees, but I never saw her stand. It all happened so quickly, and I couldn't see her. Alexa was there to keep an eye on her though and paddled out to meet her when she fell off. I relaxed when I saw my husband and eldest daughter paddling back in my direction and allowed myself to sink down on my surfboard and embrace the bobbing waves, instead of trying to fight them. To enjoy myself, I had to relinquish control, which is hard for me. Dan and Ariel each had a few more turns, and then Elyse went with the instructor too and even stood up (not very willingly, I'm sure). Carol the owner, or auntie Carol as we called her, never once fell off her board or let the kids fall into the water. She made surfing on her knees, holding our children, look effortless. Later in our session, Penelope and Elyse did get to have a swimming session in the water, but otherwise they stayed safely afloat either in the holding area with Dan or I, or on the board with auntie Carol, out surfing the waves. I can't say they loved it; I think the activity was fairly stressful for them being so novel and foreign to their senses; but at the very least, they were exposed to surfing, kept very safe, entertained and looked after while Dan, Ariel and I got to try our hand at surfing too.
Finally, the moment of truth, it was my turn to surf. Penelope, with much protestation, was removed from my surfboard and onto Dan's. Alexa waved me over, and so off I paddled. Alexa would be the one to push me into a wave. She must have picked the perfect wave because when she told me to, I paddled, pushed up, got on my hands and knees and before I knew it I was cruising the wave and loving it. The proper way to end your ride is to get back down onto your knees and into the paddling position, and so when my board slowed down, that is what I did. We were told, under no circumstances, should we ride a wave to shore. That is where the shallowest water and dangerous rocks are. Using the technique they taught us, I paddled my way off to the right and back up the "water chairlift" to meet back up with my crew.
"You're not doing it right!" Dan yelled out to me jokingly, "you're supposed to fall off."
I took a second turn with success, then Dan and I traded off again in the holding area.
Now, I'm making this sound easy. The surfboard does give you more support than I imagined, but you still have to contend with the awesome force of the wave beneath you. After my third turn, on my way back up the chairlift, a big roller came my way. We were taught, when coming face to face with a wave, to always turn your board directly at it, versus turning lengthwise or sideways. If you turn sideways, you're bound to be bulled over, but face to face, you simply push up into that seal position and sail over the wave. The contingency plan, if you don't think you're going to be able to push up in time to avoid the crashing wave, is to roll off your board and submerge yourself underwater. This option sounded scary to me, because it contradicted the other advice to remain flat and stretched out when you fall off the board, so you don't accidently brush against the rocks or coral at the bottom. I was determined to face the waves head on and stay on top of my board. As a second giant wave came my way, I bobbed up in time to see the faces of my crew looking concerned, I pushed up strong and just barely made it over the top of the wave before it crashed on the other side of me. From the holding area, Dan said our photographer had been holding his breath, commenting, "Whoa! I didn't think she was going to make it."
On my fourth surf attempt I bailed hard. The wave came too quickly from up underneath me and I never made it to my feet before my board flew out and up into the air. I tumbled under water and grabbed for my ankle like we had been taught, reaching for the cord that would get me back to my board as soon as possible where I could hoist myself up and paddle to safety.
"I guess you didn't hear me say to push up, huh?" Jenn asked me kindly on my way back. I was plowed over by the wave.
While Ariel silently refused to try standing while surfing on her own, once she rode tandem with auntie Carol she rocked it. The whole time we surfed I could see the worry written all over her face; she takes after her parents in being risk-averse, so I was surprised when in the car ride after the experience, when we were all exhausted, she asked, "So when are we going surfing again?"
But I shouldn't have been surprised, because now I understand what draws people to surfing. At least, I know what draws me to surfing. Harnessing the power of the awesome wave beneath you is an incredible feeling. Once I let go of my anxieties, out riding the waves, then I truly felt in control. Being able to tame mother nature in this small way is so gratifying. Or perhaps tame is the wrong word. It's more of a partnership, a unison, a meditation of becoming one with the wave. There is definitely a thrill. When I made it over the crest of that second giant wave, the sense of relief and redemption was palpable. I had been pulled under the water and spit out upon our arrival in Hawaii, but not this time. This time I came out on top, riding the waves.
On our way to the airport, as we bade Hawaii goodbye, the melodic ukulele strumming in Somewhere Over the Rainbow playing through the car speakers, I got misty-eyed at the reality of our leaving.
"What's wrong with your eyes, mommy? Penelope asked.
We made a family pact to one day come back to the North Shore, to shaved ice and acai bowls; to lush tropical forests and waterfalls and crystal blue waters as far as the eye can see.
And when we do, I'm going to ride those waves.