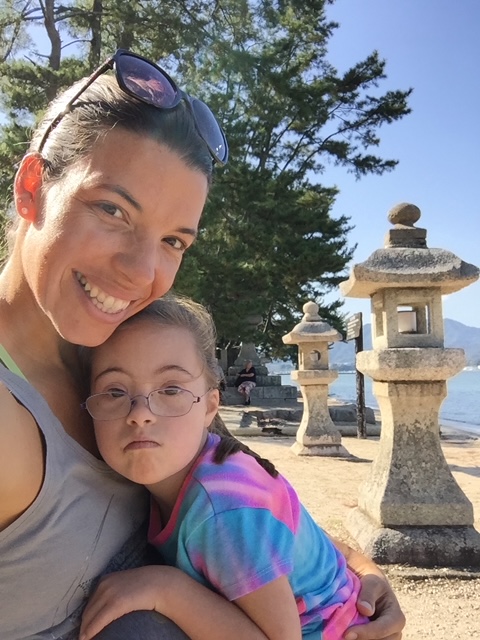 On Monday after the holidays, Dan looks after our three girls while I sit upstairs in my bedroom office writing a class assignment due in the next few days. He's being incredibly flexible and generous with his work time, and I am grateful for that, beyond grateful. We had many intense discussions all through the summer, when the kids were home for six months straight, and then the announcement came that the kids would be home at least an extra week after the winter holidays, which felt, to me, like a punch in the stomach. How would the kids feel about staying home again? How would I get all my work done I had to do that week before my residency the second week of January? Most importantly, who would be in charge of the kids and the kids' schooling that week?
Later that Monday afternoon, I received a call from the girls' school. The totality of words exchanged is a blur and unimportant, all that matters is the final outcome: Elyse can come back to school for the week. I almost cried.
I'm going to speak for myself here, but maybe sometimes in the parent disability community, we are too afraid of acknowledging that we need help because we're afraid that somehow makes our kids look bad. Like, all those times we advocated for how capable they are and how they can do so many things (and they CAN), but there are also so many things they need help with, and my god, parents, we can't do it on our own. I really can't.
When the school called me and said they would take our daughter, I wanted to weep with relief. I almost did. Why? It's complicated. She needs the help. She needs one-on-one. We don't have the time. We don't want to teach her one-on-one; it causes conflict and inter-personal drama between members of our family. There are only two of us, my husband and I, and we have three kids and a needy puppy. We both have full-time work. Having to homeschool our kids puts a strain on my relationship with my husband and our marriage. I've written about it in a few essays you will one day get to read (in my next book!), but I will write about it here too because it needs to be known. Having the kids home for six months put a huge strain on our marriage. We were pushed to our personal limits. And part of that is our kids' ages. We have a four-year-old, she was three at the time. And part of that is, yes, I fully admit it, having a child with Down syndrome. I'm ready to fully admit it. In the case of my family, and of course I don't speak for other families on this one, given my daughter's personality, and by virtue of being our middle child, and because she has Down syndrome and her brain works and processes somewhat differently, there are additional challenges we face in parenting her. There are additional challenges we face in meeting her needs. At times, these challenges are not small. These challenges aren't insurmountable, either, but it depends what you have on your plate. These challenges aren't nothing.
But here's the part where I get mad, because some asshole is going to say, "see—there! Having a kid with Down syndrome is harder, that's why we aborted." Or give some terrible excuse about why kids with Down syndrome should never be born in the first place. To which I would like to respond: Who named you god? Who crowned you king of the species, decider of who lives and who dies? Why do you think you are so special that you get to decide? And why in the hell would you think that just because I find there are challenges in having my daughter with Down syndrome that that would mean I don't want her here? Why do we discount family? Why do we discount love? Why do we always discount love? Kindness? Goodness? Nature?
The problem is that the laziness inside of each of us wants to simplify the narrative. Down syndrome parenting = hard, therefore, something I would not want. But that story is much, much too simplified. Yes, at times parenting my daughter with Down syndrome is hard, but, hear me out, it isn't that simple. What I would like to be able to do is to tell you that sometimes it's hard without you judging me or my child. What I would like is for your support. Not pity or charity. Never pity. Don't even try me with pity. We are a family endowed in privilege, so please do not give us material things. Just love, please. Emotional support. These are the things every family needs right now and always, but especially families who have kids with disabilities.
And since I've mentioned the word privilege, I want to point out that having typical children is a sort of privilege. Don't use that privilege to look down on others. Use that privilege to help people with disabilities and their families rise up.
And what I would like to say is THANK YOU. Thank you to my daughter's school for understanding that educating our three kids at home, in front of screens all day, was never going to work for our family. THANK YOU for caring about our daughter with Down syndrome's education by offering us a better way. Thank you for the choice. Families deserve a choice. Thank you to her teachers and educational assistants for making this work. Thank you to her board for heeding the minister of education's advice. Thank you to whoever made that recommendation to the minister, that kids with disabilities should have access to one-on-one face-to-face education during the shutdown. Thank you for not making me feel like my child is an after-thought.
Thank you for knowing our daughter well enough to see that, to her, the Zoom platform is really just a giant made-up stage where her actions have no consequences, and so butt dances all day long are perfectly acceptable. And funny faces up close to the screen. Picking one's nose on camera. And that making loud noises when her sister is trying to learn is fun, and so is shutting the computer screen down when it's her turn to learn even when there's a real-live person on the other end trying to teach her, and she's making mom and dad pull their hair out.
THANK YOU, a huge thank you, to her special education resource teacher who knows that, in the week leading up to my MFA residency, I have a shit-ton of work to do, and that my husband and I might explode if we have one more discussion about responsibilities (Okay, they didn't know about that last part). Thank you for that feeling of joy bursting from my chest when we got off the phone that somebody cares about us, about our daughter, about me and my work.
Because I know, and if you don't know this you should, but I know, that it is the mother who will get blamed. If school doesn't go well, if the kids aren't on time, don't show up, it's the mom's fault. She is the one who is supposed to be doing everything. And guess what? I'm done. I'm fucking done being fully responsible. My husband has stepped up in the hugest way. HUGEST way. And I want to thank him because he knew and accepted when he married me that I am a person with my own ambitions. I am not a wife who has dinner on the table at 5:30 p.m. sharp, like my grandmother was expected to. That was never the agreement. I am the human who works feverishly, following her passions, as long as I can, then comes down in time to eat the dinner he's prepared for me. At least right now, that's the wife and person I am. I'm in an intensive program. I'm building a career. I'm also doing what I love. And when his work got tough, you better believe I was there for him. Let no one forget I stayed home to raise our girls for years. I breastfed our babies. I stayed up through the night. I cooked passable meals. I made school lunches. I am not saying he owes me, but I am saying that he can do it too. Men can care for children too. They can take care of the home. Even when they are working. Women do it all the time. Nobody is saying that's ideal. My husband is doing it, downstairs, right now. He knew that was part of the deal when he married me, that we are equal domestic partners.
But all of this? Virtual learning. A global pandemic stretching into almost a year. A constant underlying threat to you and everyone you know and love. Nobody was prepared for this. And so we're just doing the best we can, together. But he's giving, there is no doubt he's giving, more of himself than he ever wanted to, and for that I am grateful. And thank you to the school for keeping us a healthy family and for giving us this support. And if you didn't know this was what we were going through, what many, many young families, in some version or form, are likely going through, then now you do. And if you didn't know that for some families of kids with disabilities, the challenges can seem to stack up higher, now you know that too. Just don't judge me or my daughter for it.