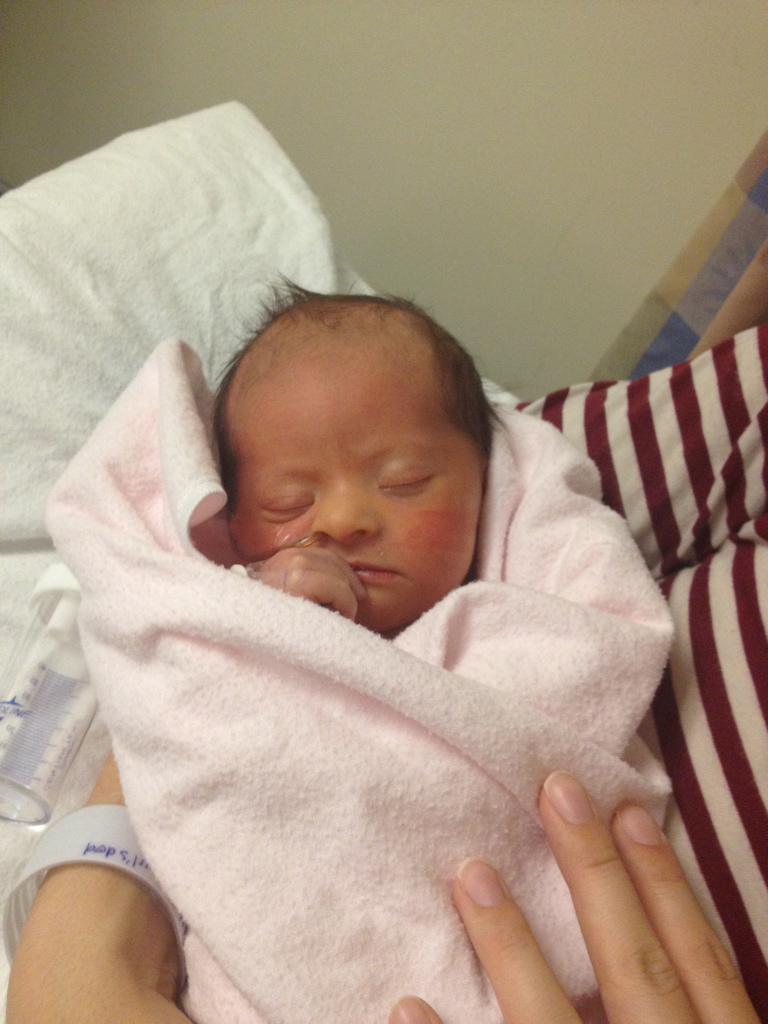 You are not alone. And if you're reading this, you've come to a good place.
Two wonderful moms, Jess and Kayla, have created a space, Beyond the Beads, for families to share their hospital experiences and to come together and support one another. They asked me to share my family's story by answering a few questions posted in a word document on their site. I used the questions as a guide, but the existence of the form itself prompted memories of my hospital experience.
Forms. In the hospital, there were plenty of them. After my twenty-week ultrasound, which showed a soft-marker, or indication, for Down syndrome, I sat in the genetics clinic at McMaster Children's Hospital filling out the same form for the second time that day with my family's medical history. With my husband Dan by my side, we waited for the results of my ultrasound and bloodwork. The high-risk obstetrician arrived, test results in hand: positive.
Then, in the NICU, after Elyse was born, I was handed a from with a checkbox and the word disabled. I wondered: aren't all newborns disabled and dependent on their mothers?
When a fetus is diagnosed with a chromosomal difference doctors consult their own forms and checklists. In the case of Down syndrome, the two most common health concerns involve the heart and the gastro-intestinal system.
Elyse was born with duodenal atresia—an atresia meaning a blockage in the duodenum—a section of the small intestine. She would die without surgery, no food able to pass through. I'm thankful we knew about the need for immediate surgery beforehand because I'm a mom who likes to prepare. I read what I could, but ultimately, nothing can fully prepare you for your child's hospital experience. It's just something you have to get through.
Our eldest daughter Ariel was 18 months old when Elyse was born. The forms to fill out were minimal with her birth; she was a textbook baby, mine a textbook pregnancy. The contrast between my first and second pregnancy experiences was one of the most difficult aspects of our hospital stay. I had to push away surreal thoughts of this shouldn't be happening and embrace the idea of this is happening and you will get through it.
Elyse underwent surgery to fix the atresia at one day old. Dan says waiting for the surgery to be done, and knowing our baby was okay was one of the hardest parts for him, as well as the days of her being in critical condition that followed.
We made the best of our hospital experience, and I encourage other parents in our situation to do the same thing. Take mini breaks. We were fortunate to have family and friends babysit Ariel so Dan and I could visit the hospital together in the evenings when he was off work. After singing to Elyse in the NICU and reading her stories, we'd head down to the café on the main floor and grab a hot chocolate. I cherished those brief reprieves. And somehow, miraculously, we'd find ourselves laughing between tears, enjoying each other's company, and I'd think who else that has a newborn and a toddler at home gets to do this? We made the best of a difficult situation as a coping mechanism for survival. In many ways, I found myself completely cut off from the outside world. What mattered for those four and a half weeks was to check off the doctor's boxes: get through surgery, intubation and heavy sedation, ditch the NG tube, build the strength for one breastfeed, then two, until Elyse could successfully breastfeed eight times in a day and we could bring our baby home.
Another difficult stage was right before the finish line. Dan recalls when Elyse was moved from the NICU to the "ICU lite" as he called it, also known as the PICU (Paediatric Intensive Care Unit).
"I was like, okay, well can't she just go home then?" he said. From my end, one day I showed up in the morning for my daily vigilance over my baby and she was gone. The team moved her to the PICU overnight without telling me. I quelled panic, and in the end, the news was good, our baby was getting stronger, closer to home, but the scenario brings up an important point. Good communication. We were greatly comforted by the physicians' plans. We felt like our baby's life was in good hands because the team at Mac took the time to explain what was going on (notwithstanding the occasional blip or two). As the parent, make sure you're included as part of the team. You establish this relationship by showing interest, asking questions, and being involved as much as possible with your child's care.
Before we were in the hospital, I talked to another mom whose son had been through heart surgery.
"During that time," she said, "you will be a mess."
It's going to be tough. Things are going to be hard.
"But now," she said, "those days feel far behind us. I almost forget they ever happened, and one day—I know it's hard to image now—but it will feel that way for you too."
Elyse is eight years old now and, in our case, these words ring true. Life goes on. Acknowledge that what you are going through is hard. And know that it will pass.
Our hospital experience was part of our journey as parents, and we're forever grateful to the professionals who saved our daughter's life, and in a way, saved ours too.
Elyse has been back to the hospital for follow-up appointments, a few minor surgeries, but we continue to approach her life as we did those days in the hospital: with joy and one step at a time. And with love. When we sang to Elyse or read her stories in the NICU, the nurses in the room would lean in because they could feel our love and they wanted to be a part of it. I believe, above all, that love healed our daughter. Please, if your baby isn't doing well, or they take a turn for the worst, know that isn't your fault either and not because you don't love them enough. If you're even thinking like that then I know you do carry an abundance of love inside of you. Sadly, sometimes no amount of love can make a sick baby better and I see those parents; I'm sending you all the care and love in the world.
Our love for each other and our baby got us through our time in the hospital and there is no form for that, just a whole lot of feeling the way with your heart.