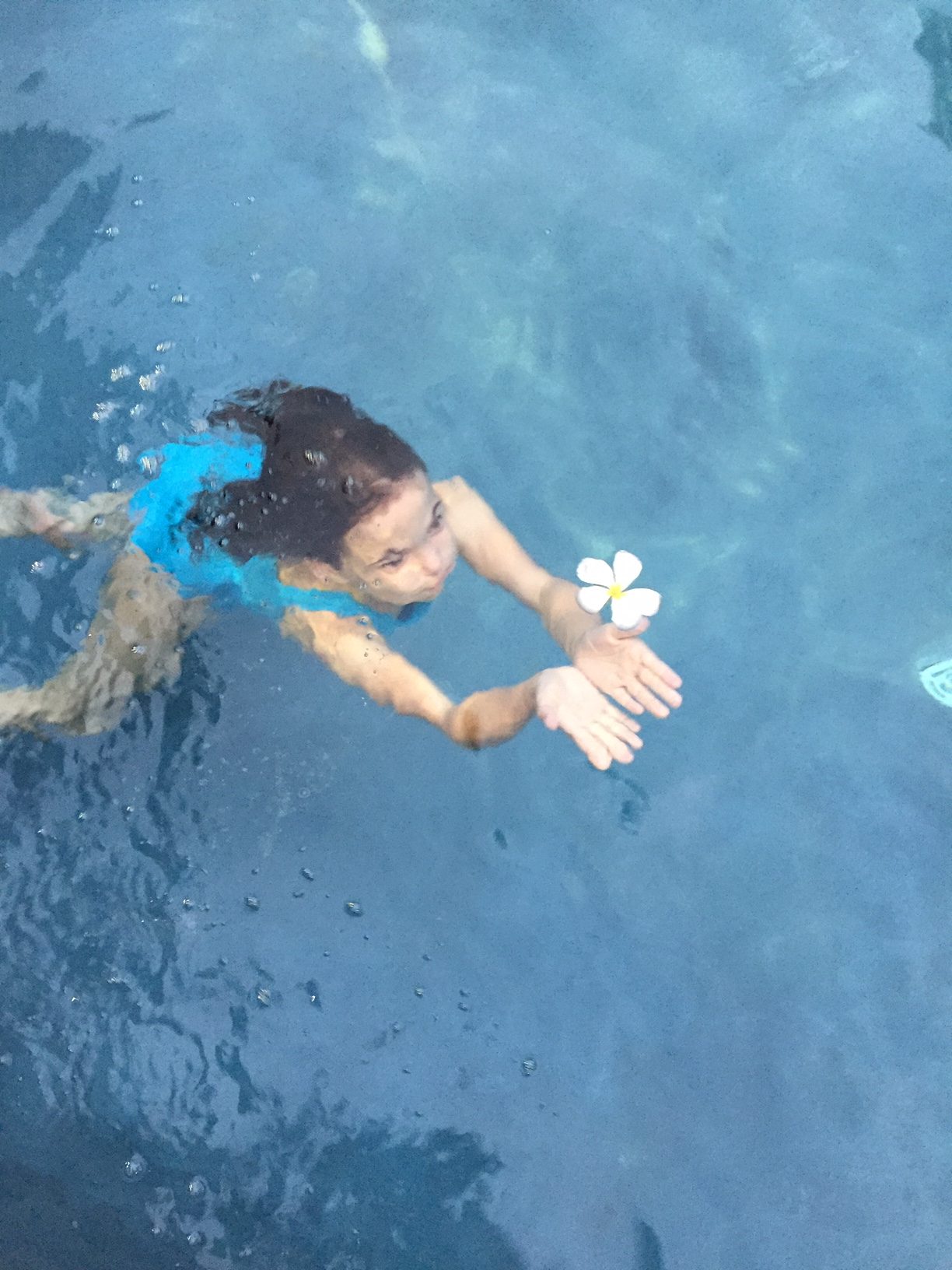 As the designated Big Island driver, I've had less time for writing and travel musings in my notebook as I've been driving all over this black rock. Hawaii. The place where new land is made. During our time here, there's one theme that keeps coming back to me, hanging out in my mind, and so naturally that is what I will write about. But first let's get the obvious out of the way: Hawaii is paradise. There is no question about that. But it's a natural paradise, rough and rugged, alive and vibrant and the forces at play are not only elemental, but unstoppable.
I got my first taste of the island's awesome power on the shores of Kua Bay. If you were to choose a swimmer in our family, it would be me. My affinity for water is well known (especially by my friends and family who have pools) and so immediately after disembarking from our flight I slotted in a trip to the closest beach. I knew Big Island was about visiting volcanoes rather than being renowned for its amazing swimming and beaches, but I hadn't understood the awesome force of the currents.
When we arrived at Kua Bay, the beach was a dazzling array of turquoise waters and lush palms. As the self-proclaimed water tester, I approached the crashing beach waves with a degree of caution, but also with the air of someone who knows they are a competent swimmer. Within minutes, when I did a slight jump with my back into the wave, I was sucked right under and spit back out, coughing and sputtering, my sun hat lost in the wave. Well, hello there Hawaii, I thought; you like it rough; I see how it is. Danger. Imminent threat. Could it be otherwise on an island with not one, but two volcanoes? The most recent of which erupted in 2018 causing devastation to everything in its path and the loss of 7,000 homes. The apparent danger is everywhere, and yet, you really aren't afraid, instead you feel emboldened. The stark beauty of the ocean, the lush land; the land that can erupt and the ocean that can pull you under. There's a balance to be found here, a place in between, teetering on the edge.
On our second day we drive to visit the caldera of Mauna Loa. Hot steam vents surround the massive crater in the earth, and Elyse, right on point, is terrified when we tell her we are going up to see a volcano. "No!" she wails convincingly, "it's too hot!" She has seen the pictures. She knows what burning rock can do.
Arriving at our beach house, Dan realizes there's no coffee. Not being a coffee drinker myself, but understanding his need to caffeinate in the morning, I suggest we stop at a coffee plantation on our drive to the volcano. I was sure I'd read something about a store nearby. Coffee beans, pre-roasting, if you've never seen them, are cherry red. I was excited to show the girls the beans and get Dan his cup of Joe.
I hung a right into the driveway of the first coffee plantation we arrived at. As we drove down the incredibly steep laneway, it occurred to me that this could be a terrible mistake. It was a Sunday morning. What if the store wasn't open? What if there wasn't a store at all? What if the property owners weren't understanding or grew upset about our intrusion – because this is what this was.
I shifted into park at the place that seemed the most promising and offered to take a look around. We were in the middle of what looked like a jungle and there was no one to be seen, just a few cottages belonging to some sort of retreat. There was a narrow pathway that disappeared into a thicket of trees. This seemed to be my only option. I took it. My heart was beating wildly in my chest. Where was everybody? Hello? The next minute, I ran into a man who didn't speak English and seemed quite surprised to see me, but he was pleasant and gave me a smile.
"One minute! One minute! I go get…I go get…"
Who's he going to get? It didn't matter. I was committed now. He disappeared into one of the cottages.
A woman emerged and greeted me warmly as two oversized German Shepard's appeared out of nowhere and made a full display of barking and howling aggressively. A second man appeared from the cottage and waved the dogs off. I relaxed when the dogs seemed harmless and appeared to listen to their owners who were clearly communicating there was no need to eat me. I explained to the couple that my husband needed coffee when my kids loud voices back at the van roused the dogs' shackles back up and sent them into another barking fit. They took off full speed in the direction of my family; I hoped Dan would close the doors in time.
Though there was no store, and they only shipped their coffee overseas, in the end I walked away with a delicious bag of the freshest ground coffee you can imagine, and a ziplock bag of macadamia nuts – an island specialty – the kind woman told me she had roasted only the night before.
Nothing ventured, nothing gained. Best macadamia nuts I've ever tasted.
Back to swimming in the ocean. Once you make it past the shorebreak, and let me tell you, THE SHOREBREAK IS REAL (Dan and I joked about this after I was pulled under and we had essentially ignored the signs); once you make it out there, there's salt and sea creatures to contend with. After Kua Bay, we found a calmer, kid-friendly idyllic tide pool thanks to a conversation with a friendly local who told us about the spot where he took his grandkids. Fact. We all know there are sharks in the ocean. Fact. Sharks don't usually eat people, let's remember that for later in the story. Sea creatures don't usually want to hurt people either, but we all have a need to protect ourselves.
Even at the tide pool, danger lurked around the corner. As I wade into the water, a young boy, eight or nineish in age, tells me, "oh, don't go that way. That's usually where the sea urchins are."
"The what?"
"The sea urchins. They have spikes and if you step on them they will hurt you."
Oh, I know what they are. The question is why are they where I want to swim? That was my initial arrogant approach. Then we hung out for a while and watched as the other kids and a local family discovered the sea life around us. There were black crabs scurrying on the rocks and a hermit crab. The mother of the family was scooping up sea urchins in her bare hands and passing them to her toddler. I talked to the children who lived there and found out that if you don't press on a sea urchin, it has suction cup tentacles that don't hurt you at all – they tickle. Sea urchins generally stick to the bigger rocks, so avoid the rocks. I laughed at the silly sea cucumber that look like a…umm…what's a polite way to say this…a black soggy cucumber. The kids told me if you squeeze a sea cucumbers it pees. Maybe don't squeeze them. There was a black brittle star, a creepy starfish looking thing, that clung to the underside of rocks and gets its name because of its fragility – if you pull on one of its limbs, the limb detaches. For that reason I felt protective of the little guy.
Once the scariness factor was removed from the sea creatures and the girls and I were exposed to them, like with everything else – once we are informed – we felt safe and could fully enjoy our natural surroundings. Not to mention the majestic sea turtles we encountered at a different beach later.
But, remember, balance. There needs to be balance, and to tip the scales in the favour of danger we factor in a good shark attack story.
While at the gentle kid-friendly tide pool I was chatting with a mom Elyse had really taken a liking to. She's done this a few times now, buttering other mothers up, then throwing herself at them like she's in need of a new mother, a better family. Oreo, my dog, does the same exact thing. We'll be walking together in one direction, and another family will pass us by and Oreo will turn and start walking with them. I'm trying not to take this personally. Anyway, I ask this woman what she knows about the Ironman finals that are held on the island. I've recently signed up for my very first Ironman. The championship race recently took place in Kona. She explains the participants start out in Kona Bay for the almost 4 km swim. As she's telling the story, her face clouds over. Someone she knows from work, not two days before the Ironman race was held, disappeared in Kona Bay. He was night fishing, alone. They found his belt and dive kit with big teeth marks in it.
"A shark got him," she explains.
As I'm thinking of those elite athletes getting in the water a few days later, she retorts, "Yeah, they sure didn't advertise it. That one got swept under the rug."
On our final day on Big Island, we visited one final beach with tide pools for the kids and a coral reef for Dan and I to explore snorkeling.
"There's a reef shark out there," a local woman explained to me, she gestures at Ariel, "its mouth probably isn't even big enough to eat her."
We didn't swim out there to find out.
Now, as the sun is setting its final rays, I'm urging my crew, let's hike out to that cliff point, one final hurrah as darkness sets in, a final opportunity with high stakes: the chance to see humpback whales.
But as night falls, watch your step, the black rock cuts deep.